Who is Jake Lamb's gf Hannah Maserjian?
Hannah Maserjian is the wife of MLB player Jake Lamb. The couple met in their Seattle high school in 2004 and became inseparable after confessing their feelings for each other in 2016. Hannah has an Associate of Arts degree in Fashion Merchandising from Shoreline Community College. She has worked as a digital merchandiser and buyer for various companies, including J.Crew, Nordstrom, Zulily, and Old Navy.
Quick Facts About Hannah Maserjian
| Name | Hannah Maserjian |
| --- | --- |
| Place of Birth | Seattle |
| Nationality | American |
| Profession | Digital Merchandiser and Buyer |
| Education | Associate of Arts degree in Fashion Merchandising from Shoreline Community College |
| Husband | Jake Lamb |
Early Life and Personal Background
Hannah Maserjian and Jake Lamb first crossed paths in their Seattle high school hallways in 2004, but their romance didn't ignite until late 2016. Their inseparable bond blossomed after they confessed their feelings for one another.
Jake Lamb's Background
Jake Lamb, born on October 9, 1990, is a professional American baseball infielder with a track record playing for various MLB teams. These include the Arizona Diamondbacks, Oakland Athletics, Chicago White Sox, Toronto Blue Jays, Los Angeles Dodgers, and Seattle Mariners.
Educational and Career Journey
Hannah Maserjian earned an Associate of Arts degree in Fashion Merchandising from Shoreline Community College. Her career journey commenced as a visual merchandising assistant at J.Crew in 2011 while still in college. She subsequently worked at Nordstrom for three months in 2013 before joining Zulily as an assistant buyer for footwear. Her role evolved to an assistant buyer for business development in 2015. In May 2016, Hannah joined Old Navy as a global assistant merchandiser, where she dedicated over four years of her career.
Relationship with Husband and Family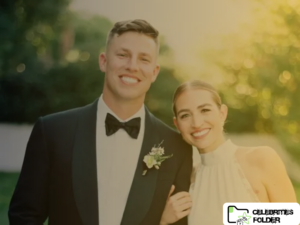 Jake Lamb and Hannah Maserjian sealed their love with a stylish wedding ceremony and reception at the Parker Palm Springs. They have since made Seattle their home, with Jake signing a baseball contract with the Mariners.
About Jake Lamb
Jake Lamb boasts a remarkable baseball career, earning All-Star status in 2017. He pursued his education at the University of Washington, earning honorable mention All-Pac 12 recognition in 2010-12 and Freshman All-American honors by Collegiate Baseball in 2010. As of 2023, Jake's estimated net worth stands at approximately $5,200,000.
Physical Attributes
Standing tall at 6 feet 2 inches (1.87 meters) and weighing around 99.8 kg (220 lbs), Jake Lamb possesses impressive physical attributes.
Net Worth
As of 2023, Jake Lamb's net worth is estimated to be around $5,200,000, factoring in the value of his luxurious Arizona home, truck, sports car, and real estate investments.
Social Media Presence
Jake Lamb maintains a low profile on social media platforms. While he does have a Twitter account, he does not possess an Instagram presence.
In summary, the relationship between Hannah Maserjian and Jake Lamb has evolved from a high school friendship into a deep and loving marriage. Both individuals have enjoyed successful careers, with Hannah thriving in the fashion industry and Jake excelling as a professional baseball player. Their love story serves as a testament to the power of friendship and the significance of supporting each other's dreams and aspirations.