Who is Jilly Anais?
Jillyan Anais Moor, better known as Jilly Anais, is a 27-year-old actress, model, singer, and social media influencer from Houston, Texas, USA. She has been in a relationship with NFL quarterback Deshaun Watson since 2019. Jilly Anais has a net worth of around $2 million. She is a versatile personality with a background in competitive dance and cheerleading. Anais has more than 2.5 million followers on Instagram and was crowned Miss Teen Houston in 2011.
Quick Facts About Jilly Anais
| Name | Jillyan Anais Moor |
| --- | --- |
| Date of birth | January 2, 1996 |
| Age | 27 |
| Zodiac Sign | Capricorn |
| Place of Birth | Houston, Texas, USA |
| Nationality | American |
| Profession | Actress, Model, Singer |
| Net Worth | $2 million |
Early Life and Personal Background
Jilly Anais carries the legacy of her family, being the daughter of former Texas A&M basketball player, Jules K. Moor, and Comcast executive, Theresa Moor. Her journey in the world of beauty pageants began in 2011, and she secured the title of Miss Teen Houston. In 2014, her ambitions led her to relocate to Los Angeles, where she embarked on her journey in the entertainment industry.
Educational and Career
Anais has graced commercials for prominent brands like Dance Spirits, Dance Academy, Sakowitz Furs, Sports Authority, and Academy. Additionally, she has ventured into acting, featuring in television episodes and making appearances on various talk shows. Prior to her relationship with DeShaun Watson, Anais was romantically linked with NBA player Dejounte Murray, who now plays for the Atlanta Hawks.
Relationship with DeShaun Watson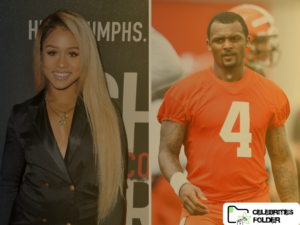 The romantic saga between DeShaun Watson and Jilly Anais commenced in the midst of 2019, with their serendipitous encounter in Los Angeles. The couple commemorated their four-year anniversary in July 2023. Anais has shown unwavering support for Watson throughout his legal challenges, attending his games and proudly sporting his jersey.
About Life Partner
DeShaun Watson is a notable NFL quarterback, having represented the Houston Texans and later the Cleveland Browns. His career has been marred by multiple allegations of sexual misconduct, which have generated considerable legal battles and controversies. Despite these formidable challenges, Watson and Anais have exhibited remarkable resilience, sustaining a robust and enduring relationship.
Physical Stats
Jilly Anais is not only a talented model but also possesses a substantial following on social media platforms. However, specific details about her physical statistics are not readily available.
Net Worth
While the precise figure of Jilly Anais' net worth remains undisclosed, her flourishing career as a model, singer, and social media influencer is unmistakable. In contrast, DeShaun Watson inked a monumental five-year, fully guaranteed contract worth $230 million with the Cleveland Browns.
Social Media Profiles
Jilly Anais maintains an active presence on Instagram, boasting a substantial following of more than 2.5 million. On her account, she frequently shares glimpses of her life, career, and her enduring relationship with DeShaun Watson.
In summation, the love story of DeShaun Watson and Jilly Anais is a testament to their enduring commitment to one another, having navigated through numerous challenges and celebrated significant milestones together. Anais has carved a successful path in her career, encompassing modeling, singing, and social media influence, while Watson continues to excel in the NFL, despite the legal hurdles he faces.