Who is Viollette Menefee, Spouse of Curt Menefee?
Viollette Menefee, is well known as Curt Menefee wife is originally hailing from Oak Park, Illinois, Viollette Menefee captured the heart of Curt Menefee, the esteemed Fox NFL Sunday sports commentator. Their love story is one that touches hearts, with a proposal on July 19, 2012, and a picturesque wedding in Ravello, Italy, less than a year later on May 31, 2013.
What makes their union even more special is their shared love for giving back. Instead of traditional wedding gifts, they urged their guests to donate generously to the Los Angeles chapter of the Braille Institute.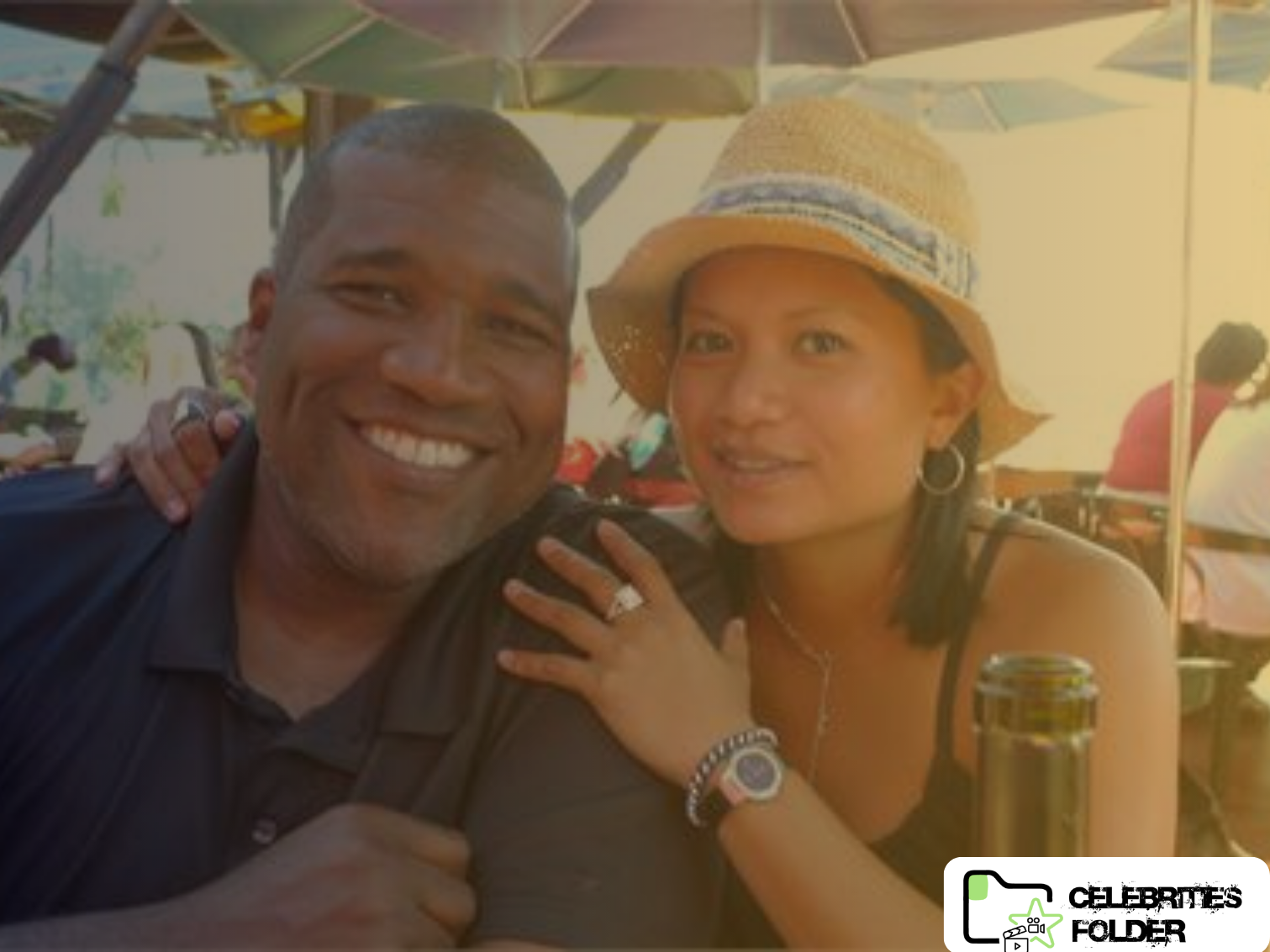 Quick Facts About Viollette Menefee
| | |
| --- | --- |
| Name | Viollette Menefee |
| Place of Birth | Oak Park, Illinois |
| Residence | Los Angeles, California |
| Profession | Nurse |
| Husband | Curt Menefee |
A Peek into Viollette's Life
Beyond being Curt Menefee's wife, Viollette has carved her path, establishing herself in the demanding and noble field of nursing. Her dedication to her profession means that she understands the demanding and often unpredictable nature of Curt's career. With 15 years of nursing under her belt, she's no stranger to long hours, night shifts, and the emotional toll of caring for patients.
Residing in Los Angeles, California, Viollette's life isn't just about her work or being Curt's pillar of support. She cherishes the little joys, whether it's hiking with their adorable dog Abby, cooking dinners for loved ones, embarking on trips outside LA, or connecting with her nieces via Skype. Her love for music, movies, food, wine, and travel further aligns with Curt's interests, making their bond even stronger.
The Curt and Viollette Menefee Love Story
Their love story is the stuff of dreams. Their engagement in 2012 was soon followed by a lavish wedding ceremony in Italy. Jay Glazer, Curt's colleague and friend from Fox NFL, stood by him as the best man. The couple's decision to request donations for the Braille Institute instead of traditional wedding gifts speaks volumes about their compassionate nature.
View this post on Instagram
The New York studios, where Curt works, are a considerable distance from their LA home. Such a setup would be challenging for any couple, but Viollette's flexibility and understanding, forged from her own unpredictable nursing schedule, make it work.
People Also Read About: Kyle Okposo's Wife Danielle Okposo
A Little About Curt Menefee's
Born on July 22, 1965, in Atlanta, Curt Menefee is a distinguished sports broadcaster for the Fox network. Having earned his Bachelor's degree from Coe College in Cedar Rapids, Iowa, Curt has made significant contributions to sports journalism. He is famously known as the host of Fox NFL Sunday and has also made his mark in other sports coverages such as MLB, UEFA Champions League, UFC, and the US Open Championship. Married to Viollette Menefee, a dedicated nurse from Oak Park, Illinois, the couple currently resides in Los Angeles, California. They exchanged vows on May 31, 2013, in Ravello, Italy.
| | |
| --- | --- |
| Name | Curt Menefee |
| Date of Birth | July 22, 1965 |
| Age | 58 |
| Place of Birth | Atlanta |
| Profession | Sports broadcaster for Fox |
| Education | Bachelor's from Coe College |
| Wife | Viollette Menefee (2nd wife) |
| Original Name | Curt Menefee |
Net Worth and Salary: How Much Are the Menefees Earning Per Year?
Viollette didn't mention her net worth as a nurse online but her husband Curt's net worth is around $8 Million and salary estimated $2 Million. While exact figures for Viollette Menefee's earnings are undisclosed, Curt Menefee boasts an impressive salary thanks to his long-standing career with Fox. Given the private nature of their finances, it's safe to say that the couple leads a comfortable life, backed by both their professional endeavors.
Height and Weight: How Tall Is Viollette Menefee?
Detailed information regarding Viollette's height and weight remains private, respecting her personal choices.
Interesting Facts About Viollette Menefee
Viollette's dedication to nursing spans over 15 years.
She shares Curt's passion for music, movies, and travel.
The couple's philanthropic gesture during their wedding remains one of the highlights of their union.
FAQ About Viollette Menefee
1. When did Viollette and Curt Menefee get married?
They tied the knot on May 31, 2013.
2. What does Viollette Menefee do for a living?
Viollette has dedicated over 15 years to the nursing profession.
3. Where do the Menefees currently reside?
They live in Los Angeles, California.
This biography captures just a glimpse of Viollette Menefee's world, offering a window into the life of a woman who is much more than just Curt Menefee's wife. Her dedication to her profession, her love for her family, and her shared passions with Curt make her a figure worth celebrating in her own right.