Who is Shohei Ohtani's gf Kamalani Dung?
Kamalani Dung, born on March 4, 1997, is an accomplished American softball pitcher, model, actress, and philanthropist. She is known for her diverse ethnicity, which includes Hawaiian-Polynesian, Puerto Rican, Caucasian, and Chinese-Asian backgrounds. Kamalani has gained recognition as a gold medalist and the first professional softball pitcher from Hawaii.
She has played for the Puerto Rican national softball team and the Athletes Unlimited Softball league. Kamalani was rumored to be in a relationship with Japanese baseball sensation Shohei Ohtani, but they are no longer together. As of August 2023, Shohei Ohtani is currently single.
Quick Facts About Kamalani Dung
| Name | Kamalani Dung |
| --- | --- |
| Date of Birth | March 4, 1997 |
| Age | 26 years old (as of 2023) |
| Zodiac Sign | Pisces |
| Place of Birth | Waianae, Hawaii, United States |
| Nationality | American |
| Ethnicity | Hawaiian-Polynesian, Puerto Rican, Caucasian, and Chinese-Asian |
| Profession | Softball Pitcher, Model, Actress, Philanthropist |
| Education | Kamehameha Kapalama High School, UC Berkeley University |
| Original Name | Xeana Kamalani Dung |
Early Life and Personal Background
Shohei Ohtani, born on July 5, 1994, in Ōshū, Iwate, Japan, is a Japanese professional baseball player renowned for his exceptional abilities as a pitcher, designated hitter, and outfielder for the Los Angeles Angels of Major League Baseball (MLB). His parents, Kayoko and Toru Ohtani, both had athletic backgrounds, with his mother excelling as a national-level badminton player and his father participating as an amateur baseball player. Ohtani also has an older sister named Yuka and an older brother named Ryuta, who likewise played amateur baseball in the Japanese Industrial League.
Educational and Career
Ohtani attended Hanamaki Higashi High School in Iwate, Japan, where he embarked on his journey in professional baseball. He initiated his professional baseball career with the Hokkaido Nippon-Ham Fighters of Nippon Professional Baseball's (NPB) Pacific League before joining the Los Angeles Angels in 2018. As of September 2023, Ohtani's estimated net worth stands at around $50 million.
Relationship with Kamalani Dung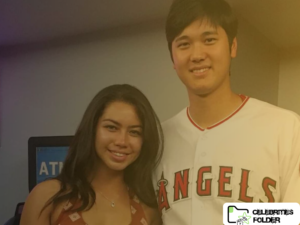 Shohei Ohtani was formerly in a relationship with Kamalani Dung, an American model. Nevertheless, the couple has since parted ways, and Kamalani is currently dating Hawaii-based musician Dillon Pakele. As of August 2023, Shohei Ohtani is single.
About Kamalani Dung
Kamalani Dung, also known as "Kama Dung," is an American model who garnered attention for her striking appearance and successful modeling career. She was previously in a relationship with Shohei Ohtani, but they have since gone their separate ways.
Physical Stats
Shohei Ohtani is a left-handed batter and a right-handed pitcher. He stands at 6 feet 4 inches tall and weighs 210 pounds.
Net Worth
As of 2023, Shohei Ohtani's estimated net worth is approximately $50 million. It is expected to increase significantly in the future, with predictions of him securing the largest contract in MLB history, potentially worth over $500 million.
Social Media Profiles
Shohei Ohtani maintains an active presence on social media, although he tends to keep his personal life private. He has not disclosed much information about his relationships on his social media accounts.
Conclusion
Shohei Ohtani is a gifted baseball player who has garnered attention not only for his exceptional athletic prowess but also for his personal life. Although he was previously in a relationship with Kamalani Dung, they have since separated, and Ohtani is presently single. With a promising future in MLB, fans can anticipate witnessing more of Ohtani's extraordinary talents on the field and, perhaps, updates on his personal life in the future.